[ui!] presents UrbanPulse to EU Commissioner at CeBIT 2016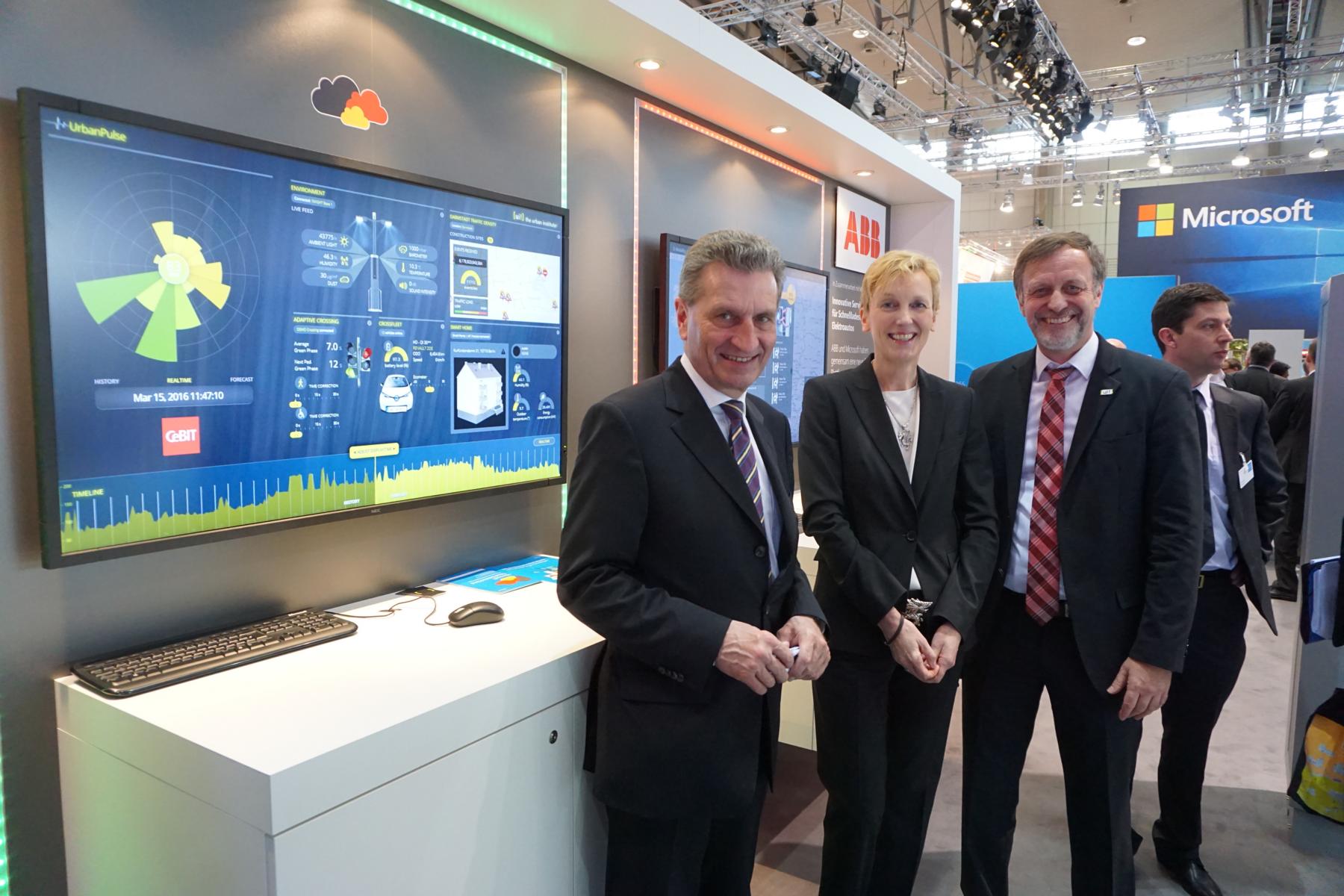 This week [ui!] hosted The Commissioner for the Digital Economy and Society of the European Commission, Günther H Oettinger on its stand at CeBIT 2016. During the Commissioner's visit to the [ui!] stand he was given a demonstration of [ui!]'s latest open urban platform solution, UrbanPulse.
The solution, built on Microsoft Azure Internet of Things (IoT) technology, brings together sensor data from a diverse range of devices and city infrastructure, translates it and makes it available to city managers, councils and citizens so they can act upon it. Prof. Dr. Lutz Heuser, CEO of [ui!] and Sabine Bendiek, Managing Director of Microsoft Germany demonstrated the solution to the Commissioner using real-time traffic data from Darmstadt, Germany and SM!GHT sensor data from the the integrated Humble Lampposts located in Karlsruhe.
The [ui!] solution represents a significant step towards implementing the 'Towards Open Urban Platforms' commitment as agreed by suppliers of smart city platforms in a MoU signed in May 2015. This MoU forms part of the European Innovation Partnership (EIP) 'Smart Cities and Communities' under the patronage of Commissioner Oettinger.
[ui!] UrbanPulse is an open cloud-based IoT platform that delivers real-time data storage and integration for a wide range of sensors and city infrastructrure including traffic management systems, ennvironment monitoring, energy & smart grid management, street lighting and city wi-fi. UrbanPulse offers a very robust, cost effective smart city management solution, which can be delivered in a matter of weeks using a wide range of pre-built and proven API based connectors for existing or new city infrastructure.
Prof. Dr. Lutz Heuser said of The Commissioner's visit: 'The commitment towards open urban platforms has been considered as a key game changer for the take-up of smart city solutions. Commissioner Oettinger was clearly impressed by how quickly we've been able to develop the solution and we discussed the impact such an open approach could have on cities across Europe, as well as how we might export it to the United States of America.'

About the MoU 'Towards Open Urban Platforms for Smart Cities and Communities'More than thirty organisations across Europe have signed the 'Towards Open Urban Platforms' MoU to date. Together, they are defining the reference architecture and design principles for open urban platforms based on a clear set of requirements identified by a European Cities group that is headed up by the Greater London Authority.The industry group is currently led by SAP SE and it is developing its first report, which will be made available at the EIP SCC 2016 Summit in Eindhoven 24 May 2016.