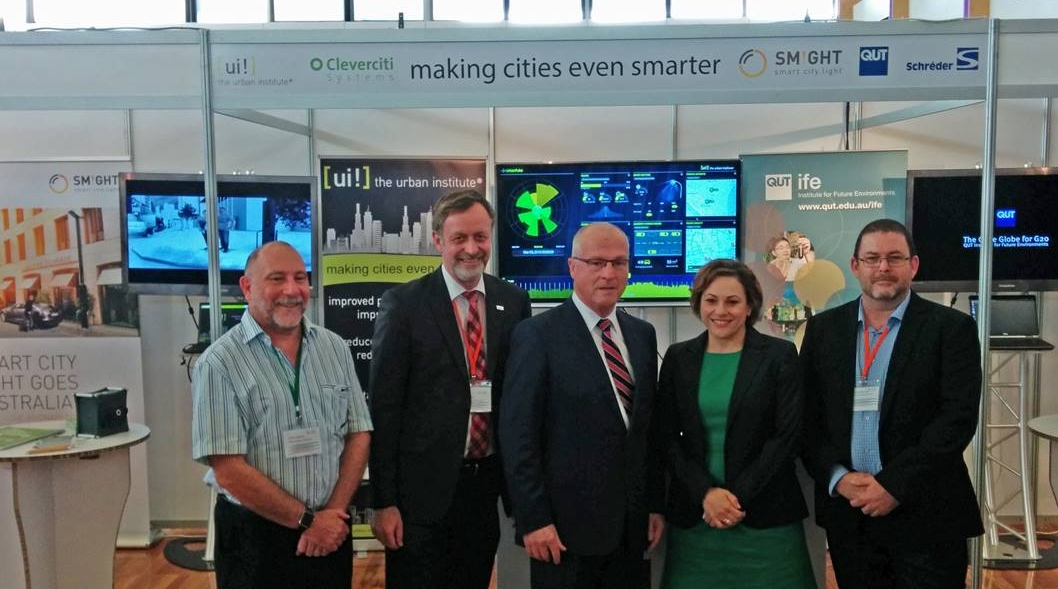 Visitors to the [ui!] booth at the Sunshine Coast Smart Communities Summit: (l-r) Prof Simon Kaplan, [ui!] Australia; Prof Dr Lutz Heuser, [ui!] Germany; Sunshine Coast Mayor Mark Jamison; Deputy Premier of Queensland Jackie Trad; Australian Smart Communities Association President Michael Whereat.
[ui!] has commenced operations in Australia. As part of our launch activities we sponsored and participated in the2016 Smart Communities Summit, held in Caloundra on the Sunshine Coast from 2 - 4 March, 2016. The inaugural summit provided the first all-inclusive opportunity for industry and government technology leaders in Australia to connect with, be introduced to, and learn from national and international leaders at the very forefront smart city innovation.


[ui!]'s presence was prominent at the summit, with the Chief Executive Officer Prof. Dr. Lutz Heuser presenting a keynote speech to the 160 national and international summit delegates, and the largest exhibition space at the summit, shared with partners CleverCiti, SM!GHT, Schreder and QUT.
"Making cities even smarter is vital everywhere", said Dr Heuser, "but particularly in Australia where a small population and vast land mass means it's necessary to make every dollar work as hard as possible, to maximize value to the Australian economy".
Deputy Premier of Queensland Jackie Trad and Sunshine Coast Mayor learn about the [ui!] cockpit from Dr Lutz Heuser
Key visitors to the [ui!] booth included Deputy Premier of Queensland Jackie Trad; Mayor of the Sunshine Coast, Mark Jamison; President of the Australian Smart Communities Association Michael Whereat; and Sunshine Coast City Council CIO, Brian Beswick.


[ui!] showcased their UrbanPulse and Cockpit software to demonstrate how our real-time open data platform can be used to access and visualize the floods of data available in a smart city. This demonstration met with great interest from the summit's attendees.
The centerpiece of the [ui!] demonstration was the integration of Brisbane's realtime traffic and parking data. This integration was accomplished through our strategic partnership with Queensland University of Technology.


"[ui!] cemented its position in Australia as a key leader and collaborator in the future of smart cities and communities", said Dr Heuser. "With our rapidly-growing network in Australia, we anticipate several Australian [ui!] projects this year".
{jb_iconic_tag}More details about the summit: www.australiansmartcommunities.org.au/summit-2016{/jb_iconic_tag}
---
[widgetkit id="29" name="Summit Caloundra Australia"]