Digitalisation is more than just a new technology - annual meeting B.A.U.M
At the annual meeting of the sustainability network B.A.U.M. experts discuss a responsible design of digitisation, which recognises in addition to technical and economic issues the impact on the environment as well as social and cultural aspects.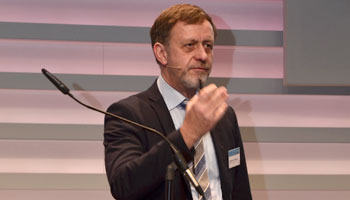 Foto: B.A.U.M / Rainer KantThe B.A.U.M annual meeting 2016 dealt in detail with the challenges and opportunities of "digitalisation and sustainability". The event offered the participants the chance to exchange information and experience as well as network.

The European Commission's Deputy Head of Net Innovation of Peter Fatelnig discussed the risk of Europe being left behind in the current digital development and calls to seize the potential of sustainable economic growth through digitalization.
Among various food-for-thought presentations [ui!] was actively represented by CEO Dr. Lutz Heuser

Intelligent Cities – Prof. Dr. Lutz Heuser, CEO & CTO [ui!] - the urban institute®

presented by the European Innovation Partnership "Smart Cities and Communities", in which the energy, transport and ICT industries are encouraged to cooperate with cities and to integrate technologies to better suit the cities' needs.

Innovative, integrated and efficient technologies will, therefore be enabled to thrive and penetrate the market, while cities are brought to the forefront of this innovation.

Furthermore, Dr. Heuser reported on the current status of the first of its kind activities with the German Institute for Standardization regarding the DIN SPECs "Reference Architecture Model "Open Urban Platform" and "Humble Lamppost - Integration of smart technologies into existing urban infrastructures" which ought to support the standardisation of urban IoT data for existing and especially new services in cities.

The final debate stressed that a well-informed decision-making body like a city council or a city parliament are an important aspect of the digital transformation of cities and a prerequisite for making cities smarter in the future. Only when every decision maker understands, what a Smart City entails, the corresponding switches can be made.