eMaaS Dissemination Q&A Session - 24.09.2020
We invite you to join us for a final Q&A session on our project "Electric Mobility as a Service" (eMaaS) on Thursday, 24.09.2020 starting at 14:00 CEST via Microsoft Teams. You have the opportunity to ask any questions you may have related to us and the project which we have been working on for the last 2.5 years. We kindly ask you to:
1. Sign up for the virtual meeting by sending an email to This email address is being protected from spambots. You need JavaScript enabled to view it. by Monday, 21.09.2020 EOB so that we can invite you to the MS Teams meeting and

2. If you wish, feel free to send questions to This email address is being protected from spambots. You need JavaScript enabled to view it., which you already have before the meeting.
We look forward to talking to you and answering all your questions!
The eMaaS Consortium
---
Context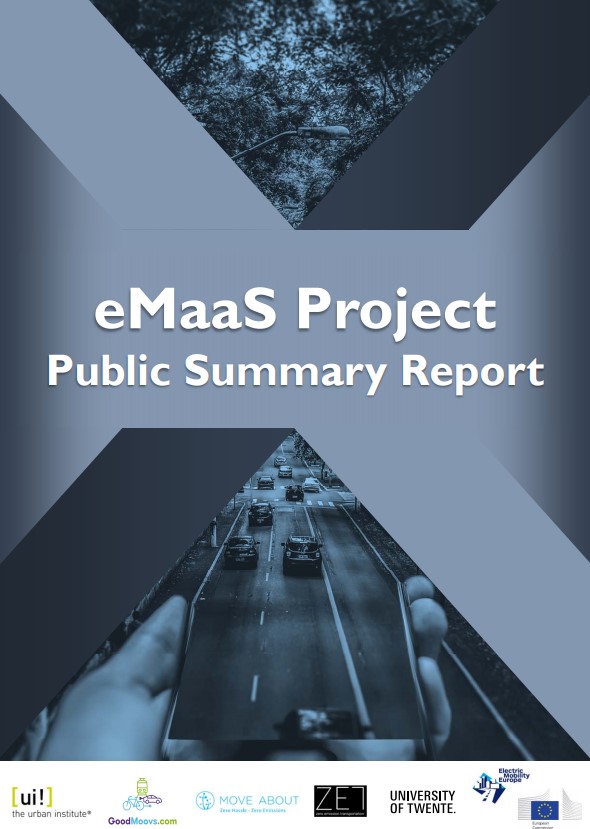 eMaaS Report - DownloadThe eMaaS project, which ran from January 2018 until June 2020, is part of the ERA-NET Co- Fund Electric Mobility Europe1. The programme has the goal to advance adoption of electric mobility in Europe. In the eMaaS project, we do this by combining innovative technology and new business models to create the conditions for large-scale adoption of Electric Vehicles. The consortium consists of European mobility SMEs: The Urban Institute (urban city software and consulting company - DE & HU), GoodMoovs (shared EV provider (car & bike) - NL), Move About (EV car sharing provider - SE) and ZET (mobility solutions provider - AT), supported by the University of Twente (NL).
A key lesson learned is that the implementation of standardised ways communication (for example, by the TOMP-API) still holds technical challenges, but even more so organisational ones. In our vision, public authorities can play a role in this by setting and facilitating the use of standards as a requirement in tenders or concessions. On the topic of data sharing, we have learned that demonstrating the business value of visualisations is still hard to achieve but coupled with standardised ways of data sharing, this area could receive a huge boost too.
In the context of eMaaS, fleets of electric vehicles of transport operators can have a very large impact towards local energy systems. In this regard, smart charging and vehicle to grid applications for eMaaS have to be explored. We encouraged governments and local municipalities and regions to promote the use of electric mobility services. Municipalities and cities should help eMaaS-operators with accessible and visible street parking, which we (in terms of usage) have clearly seen is the ideal spot for shared electric cars. Not only would more shared zero-emission vehicles reduce congestion and help reaching the global climate goals, it also provides clean city air and reduces traffic noise levels.
eMaaS Project Representatives:
Name

Organization

Name

Organization

Roberto Reyes García

University of Twente

Edward Bongers

GoodMoovs

Jan-Olaf Willums

ZET Austria

Morten von Krogh

Move About Sweden

Gadi Lenz

[ui!] Urban Software Institute

Péter Bakonyi

[ui!] Hungary

Olaf Bender

Laszlo Vajta
---
We look forward to talking to you and answering all your questions!
The eMaaS Consortium