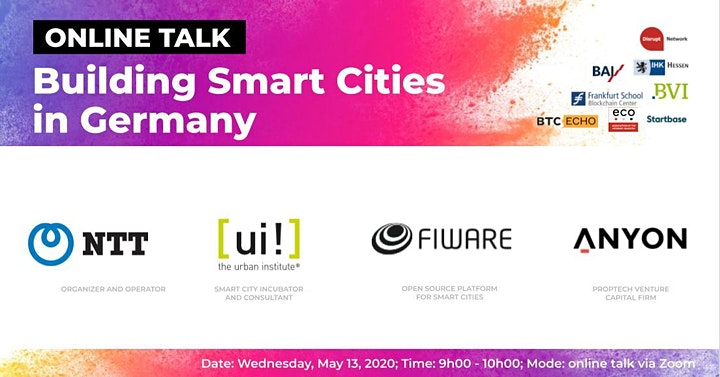 Am Mittwoch, 13.09.2020 - 9 -10 Uhr findet ein NTT OnlineTalk zum Thema Building Smart Cities in Germany statt.
Smart Parking, Drohnentransport, intelligentes Abfallmanagement - Städte und Regionen werden vernetzt und intelligent. "Smart City" hat sich als Leitbild für Stadtentwicklungsprojekte etabliert.

Technologien wie Cloud, künstliche Intelligenz, Internet der Dinge, Blockchain sowie natürlich Datenzentren sind die wesentlichen Bausteine für verschiedene Smart City-Konzepte. Daten bilden den Kern, der dazu dient, das Leben der Bürger einfacher, effizienter und sicherer zu machen.

Wie lassen sich diese Technologien am besten implementieren und anwenden?
Wie werden Daten in diesem Zusammenhang gehandhabt und genutzt?
Wie werden geeignete Lösungen in der Zukunft aussehen?
Das NTT Technology Experience Lab bringt mehrere Experten aus verschiedenen Bereichen zusammen, um Ihnen wertvolle Einblicke zu geben und Ihre Fragen zu diesem Thema zu beantworten.

Sprecher:

1. Prof. Dr. Lutz Heuser, Founder of Smart City Forum, CEO Urban Software Institute:
"Urbane Datenanalyse zu Zeiten von COVID 19"

2. Ulrich Ahle, CEO of FIWARE Foundation: Open Source und Standards für Smart Cities

3. Dr. Dennis Lips, Founder and CEO of Anyon Holding: Ganzheitliche PropTech Lösungen für Smart Cities


INTRO & MODERATION: Dominik Friedel, NTT


Der Online-Talk findet in deutsch statt.


Mode: online talk via Zoom;