[ui!] initiate DIN SPEC for integrated multi-functional street lighting infrastructure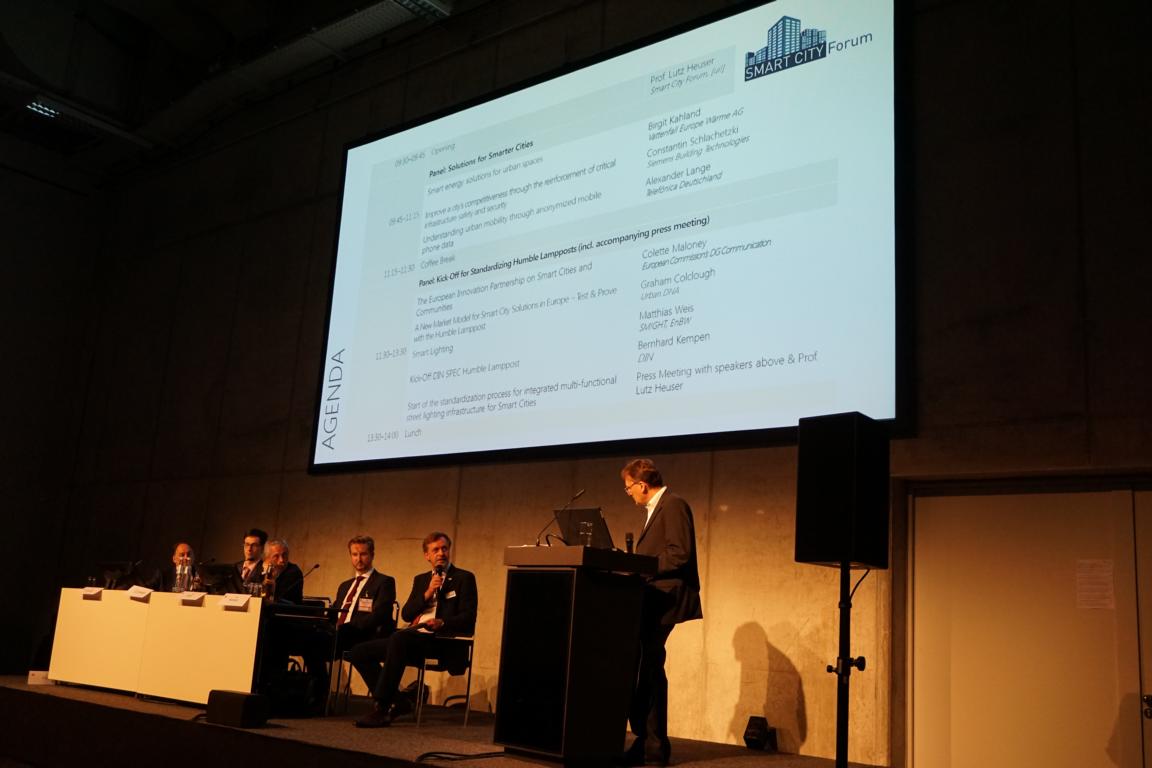 Germany to Lead Smart Street Lighting Infrastructure
Standardization of integrated multi-functional street lighting infrastructure
New infrastructure for the Smart City

First standard of its kind in Europe to be developed

Industrial consortium formed; led by Urban Software Institute: Alliander, Continental, Deutsche Telekom, eluminocity, EnBW, Microsoft, NXP, Schréder, Trilux, RheinEnergie

Future step: European or international standard

Berlin, June 1, 2016. For the digitalization of economy and society, the digital transformation of cities and communities plays a major role. Sustainable traffic flow, energy efficient lighting and charging stations are only some examples of future lead markets. In the next years, many cities have to modernize their street lighting, mainly with LEDs. This is the chance to create a unique digital infrastructure for the Smart City: from the simple light source to the integrated multi-functional street lighting infrastructure with public WIFI, sensors measuring CO2 as well as harmful pollutant emissions and electric vehicle charging points. Cities can gather data on regulated emissions, offer new services and generate revenue instead of coping with high energy costs and expiring permits for outdated street lighting. Citizens profit from the benefits of these new services based on anonymous data such as improvement of traffic flow, health or environmental information.
However, the integrated multi-functional street lighting infrastructure needs standards as a precondition for market development. Definitions of components, interfaces or quality requirements are lacking. Communities interested in investing do not have the necessary framework for the procurement process yet.


The Urban Software Institute, [ui!], has initiated the standardization process and formed an industrial consortium. Together with DIN, the German Institute for Standardization, a first standard (DIN SPEC) will be developed and published by the end of 2016. The consortium members, who start their work today, are: Alliander, Continental, Deutsche Telekom, eluminocity, EnBW, Microsoft, NXP, Schréder, Trilux, RheinEnergie, and Urban Software Institute.
DIN SPEC: foundation for a European standard
The development of standards is very much in line with the plans of the European Commission to position smart street lighting infrastructure as an crucial measure to reach European climate goals by 2020. The Commission wants more Smart Cities and Communities with digital infrastructure in Europe. After having developed the "DIN SPEC" standard [ui!] and DIN will discuss next steps with the European Organization of Standardization (CEN) to transfer it into an EU-standard.

Download Press Release