[ui!] supported S-BPM ONE 2017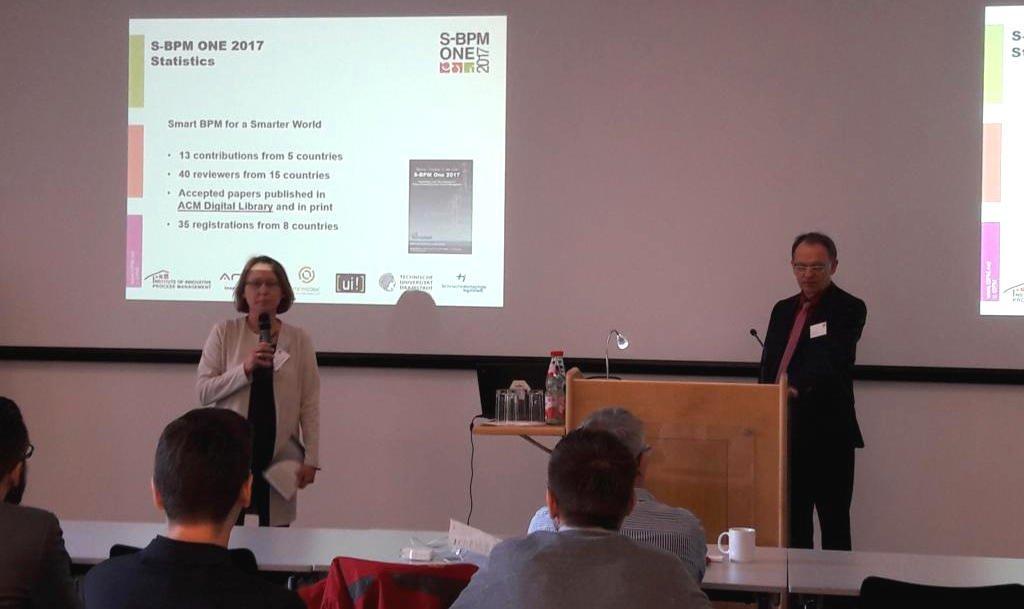 This year the Annual Conference on Subject-Oriented Business Process Management (S-BPM ONE 2017) was hosted by the Technische Universität Darmstadt and the Urban Institute GmbH.

From March 30-31, 2017, the 9th S-BPM ONE conference took place. This conference series has been carried by the Institute of Innovative Process Management e.V. (I2PM) and deals with subject-oriented modeling of systems now focusing on business processes. In the subject oriented modeling approach systems are considered as a set of active entities which do their work independent from each other. Only if they must coordinate their activities they exchange corresponding messages.

From the very beginning this series of conferences has been a panel for exchanging experiences and research results for modelling and implementing business processes. The 35 participants came from 8 different countries.

A program committee of around 40 scientists and practitioners reviewed the various contributions. The chairs of the program committee were Cornelia Zehbold from Technische Hochschule Ingolstadt and Max Mühlhäuser from the Technical University Darmstadt.

The accepted contributions are contained in the digital library of the Association of Computing Machinery (ACM).

The keynotes provided food for thought for subsequent discussions. Eric Proper from the Luxembourg Institute of Science and Technology (LIST) explored the role of conceptional modeling and particular subject oriented modeling. Harald Schöning Vice President Research of the Software AG gave an overview of various concepts for training and teaching business process competences.

In a very entertaining presentation, or better labeled as performance, Katrin Kolo demonstrated the relationships between choreographies in dancing and processes. Choreographies show the relationship between activities in space and time.

The conference was supported by the Urban Institute GmbH, the Annovio AG and the Allgeier IT Solutions GmbH.


[widgetkit id="74"]