With better data to better air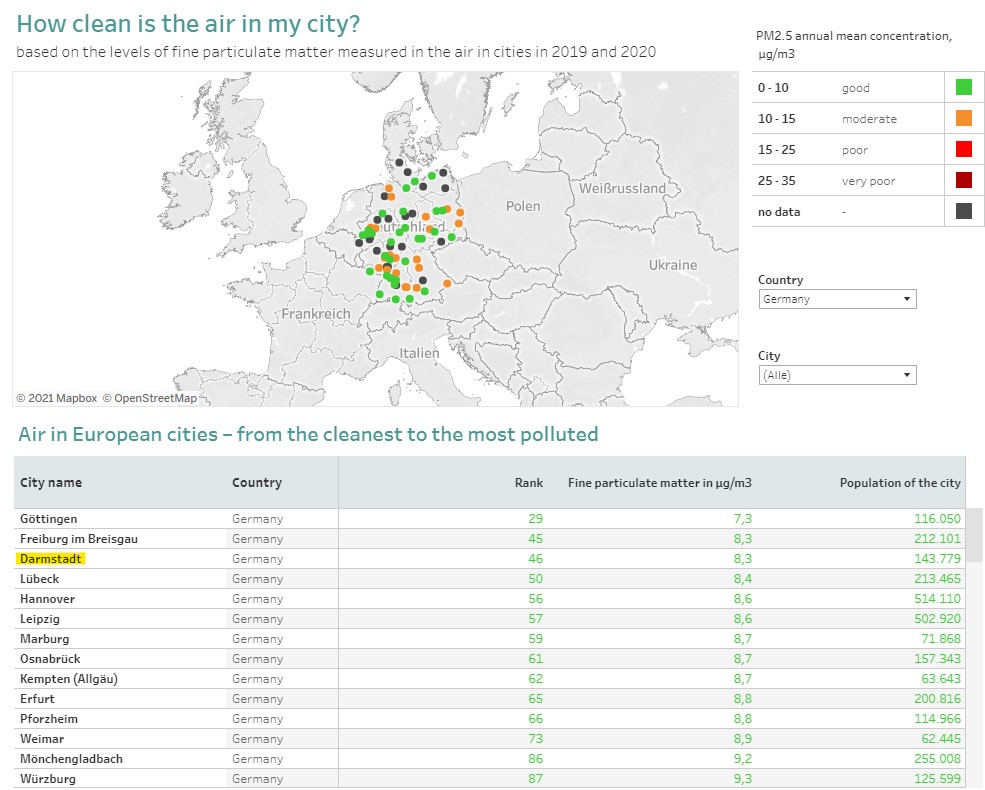 The digital city of Darmstadt rose from one of the worst places on the list of Germany's dirtiest cities to third best.
The European Environment Agency (EUA) - which, as an agency of the European Union, has the task of providing sound, independent information on the environment to those involved in the development, adoption, implementation and evaluation of environmental policy, and therefore to the general public- has developed the European City Air Viewer, a tool to compare the air quality of European cities with each other in 2019 and 2020.
Cities are ranked from cleanest to most polluted based on average particulate matter (PM2.5) levels over the last two calendar years (2019 +2020).
Particulate matter is the air pollutant with the greatest impact on health in terms of premature death and disease. This European City Air Viewer focuses on long-term air quality, as long-term exposure to air pollution has serious health implications.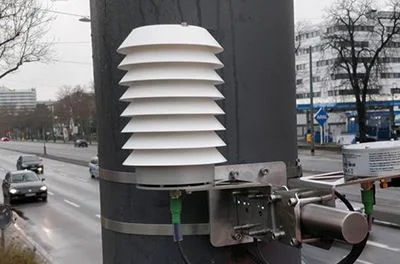 The World Health Organization has set a health-based guideline value for long-term exposure to fine particulate matter of 10 μg/m3. The European Union has set an annual limit value for particulate matter of 25 μg/m3 as part of its policy for clean air in Europe.
In Europe, as the study also shows, we benefit from the most comprehensive air quality monitoring network in the world.
We present here the particulate matter levels in over
300 cities
from all EEA member countries. The data comes from on-site measurements of particulate matter carried out by over
400 measuring stations
.
The example of the digital and science city of Darmstadt in particular shows how important investments in the digital infrastructure of the city or region can pay off. With the support of [ui!] Urban Lighting Innovations, 32 environmental sensors were installed on the existing street lighting infrastructure and connected to the new central data platform of the city of Darmstadt provided by the [ui!] Urban Software Institute.
The data collected in this way will be analyzed and processed into knowledge that will help those responsible to assess, adjust or, if necessary, improve the effects of measures to improve air quality. By means of a higher number of environmental sensor systems distributed over the entire city area, a holistic picture of the current environmental situation of Darmstadt can be created in real-time and used to make and control the necessary decisions. The more and the better the quality of data, the more likely it is to make the right decision to improve urban air quality.
Another lighthouse project, which will hopefully be implemented in many other communities and regions to improve the air quality in the entire country for all citizens.
---
Sources:
European city air quality viewer — European Environment Agency (europa.eu)
https://public.tableau.com/app/profile/european.environment.agency/viz/City_AQ_Viewer/Dashboard1