Urban data platform Cosma21 supports Frankfurt on its way to becoming a smart city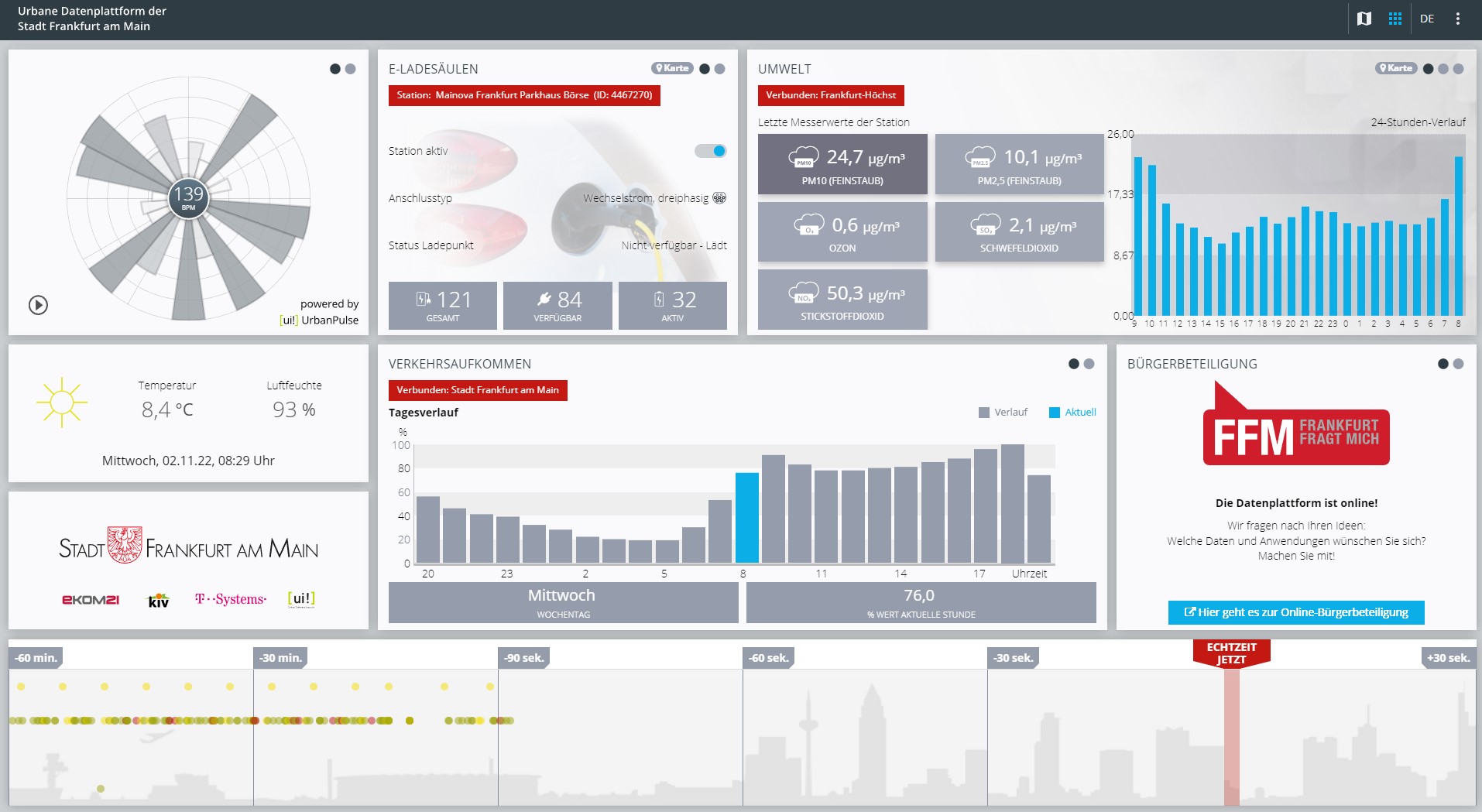 | Councilwoman O'Sullivan unveils Urban Data Platform

Less than two months after the signing of the contract between the city of Frankfurt and ekom21, the urban data platform "Cosma21", based on [ui!] UrbanPulse, was launched for the city of Frankfurt/Main. It shows different tiles on which information and map views on e.g. electromobility, environmental and traffic data are visualized and vividly presented for citizens. In the future, further information tiles are planned, which are still being elicited via the platform by means of citizen participation.
Eileen O'Sullivan, the department head responsible for digitization, presented the benefits of the platform during a press conference: "As a priority project, the Urban Data Platform is an essential part of the city's smart city strategy, as data must increasingly be understood as a strategic resource. For this reason, we as a public administration also want to make data comprehensively available and bring it together from various sources. The visually presented provision and cross-departmental networking of suitable data via appropriate interfaces is intended to offer citizens concrete added value and enable well-founded analyses on the part of the administration."
The product used, "Cosma21", is an ekom21 standard solution for Hesse based on [ui!] UrbanPulse, which is also successfully used in other communities such as Darmstadt and Bad Hersfeld making inter-municipal cooperation much easier.
Councillor O'Sullivan explains, "By using the standard solution for Hesse, it is possible to integrate data from other communities without having to program extra interfaces in each case. This makes sense because a lot of information, such as environmental data, ideally needs to be looked at across territorial boundaries."
To begin with, citizens can use the platform, for example, to conveniently find the nearest e-charging station with detailed information on connection type and occupancy status, as well as information on current air quality and the corresponding behavioral recommendations of the Federal Environment Agency.
As Councillor O'Sullivan says, however, this is only the first step: "The range of publicly accessible information is to be continuously expanded. In doing so, we want to further develop the existing offerings on the platform as well as establish new ones. It is important to me to provide information that is of particular relevance to citizens. After all, digitization should create concrete added value and not be an end in itself."
The Urban Data Platform is available at the following addresses:
urbanedatenplattform.frankfurt.de and datenplattform.frankfurt.de.
Source: frankfurt.de